Performance patch cables are a crucial factor that ensures your system connections are meeting transmission requirements.

At F3 Optic – we offer only quality built and fully tested cables and jumpers for each application.

From simplex fiber to twenty-four strand ribbon cable or mixed connectors and lengths from 7cm to 77 feet.

F3 Optic provides a comprehensive array of options to enhance the characteristics of your cable from fiber type, jacketing materials, and even custom strain reliefs. Each cable is built to our constant performance and reliability standards while meeting each application from the first connection to the last.
  
Every jumper and patch chord exhibits low-loss and contamination free connectors while maintaining high reputability performance.  * Patch cables and jumpers are built in Silicon Valley – USA ensuring that our clients get quality from the source.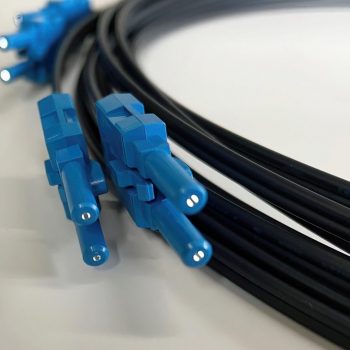 Connector Types
∞ FC, SC, ST, LC, and more….
∞ MTP, MPO and Multifiber
∞ Hybrid, IP67 Rugged, MIL-DTL-38999 and more
∞ HFBR-VO POF
∞ Ferrule Probes
Fiber Types
∞ Single mode SMF-28 (9/125um), Bend Insensitive and        Ultra Bend Options
∞ Multimode MM62 (62.5/125um), MM50 (50/125um) and OM3 10G and OM4 100G
∞ Specialty Fibers included POF and Large Core
∞ High Flex and Hytrel Jacket Options
Cable Options
∞ Simplex, Duplex, Quad, Harnesses and up to 24 strand    fibers
∞ Data Center and Systems Cables
∞ Reference Cables and Test Jumpers
∞ Micro Cables and Mini-Armored Cables
∞ Loop backs and Test Equipment Cables